Using Rivet with vMix is a great way to execute your stream and we have received requests to publish a Rivet to vMix workflow. Please see below for the workflow. You can also watch the following video on setting up vMix with Rivet.
Rivet Set Up
1. Contribution Camera should be enabled if you're sending feed from Rivet to a destination.
   a. Decoder Address: the SRT or IP address that the feed will be sending (input) to should be
    entered here. ( srt:// ) should not be included in the field. For example: 18.233.184.72
   b. Do not include the port information in the decoder address field, only include it in the "port"
    field.
2. Program feed should be enabled you are needing to bring in a feed into Rivet.
   a. SRT or IP address that Rivet will be receiving the feed from (output) is entered in the
    "Encoder Address" field.
   b. Also remember, do not include srt:// and the port information. Port information should be
    included in the "port field"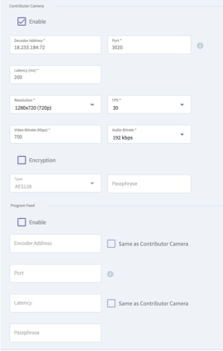 3. There are two ways to pull an SRT feed from Rivet into your vMix platform
   a. Add input "Stream/SRT" , change your stream type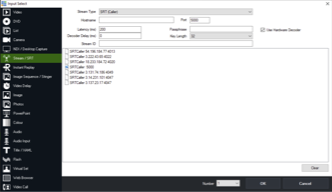 b. If you have the contribution feed output sent to a third party decoder, make sure that
    decoder is set as one of your vMix inputs and select the corresponding camera on the
    vMix input list. (vMix input 1 = camera 1)